Handgun Part I 09/01/2019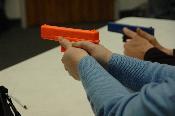 Handgun Part I 09/01/2019
Best class for the beginner handgun shooter!
Basic Handguns by Chris Tilley at PDHSC
from 4:15pm-6:15pm
Call to schedule Date For part II
This class is for handguns only.
Minimum Students 4
Price 100$ per student (Save $15 when adding Training Packages)
Minimum age 16, for younger students we can accommodate in the 1 on 1 lesson.
Price includes: Professional instruction by Chris Tilley, range time, 1 target, eye protection, ear protection and gun rentals.
Price does not include: Ammo,
approx. 50rds. needed
(If you use our firearms you must buy the ammo from PDHSC)
Class Itinerary:
Safety: How to handle the firearm safely… loading, unloading, clearing malfunctions and walking the range safely with your firearm.
Mental Aspect: This varies from student to student but for the most part Chris goes over what needs to be going through your mind before, after and as you shoot.
Basic Shooting Fundamentals: Stance, grip, grip pressure, arm extension, eye dominance, sight alignment, breathing, trigger placement and trigger control.
1-hour will be spent in the classroom and 1 hour shooting on the range
To register you must pay in full. You may sing up online, come to PDHSC or pay over the phone.
Refunds need 24-hour notice on both parties. There will be NO-REFUNDS or rescheduling past the 24-hour notice.
PDHSC
301 Tryon Rd
Raleigh, NC 27603
To find out more about the instructor click on the link below
Chris Tilley
Item Info
| | |
| --- | --- |
| Item | Available In Store |
| Brand | |
| Mfg No | HPI |
Save for Later
X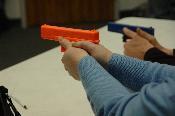 Handgun Part I 09/01/2019
Searching